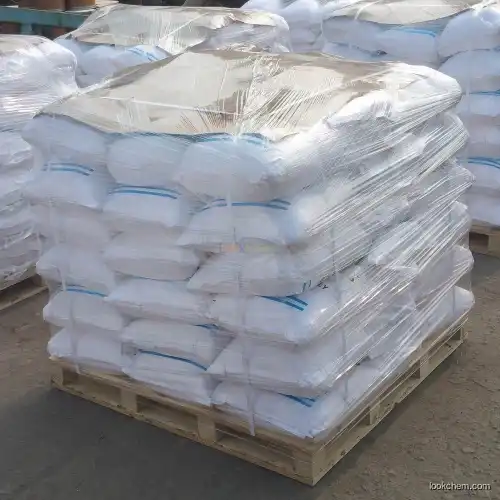 Zinc chloride, 7646-85-7 CAS NO.7646-85-7
FOB Price: USD: 1,250.00-1,300.00 /Metric Ton Get Latest Price
Min.Order: 25 Metric Ton
Payment Terms: L/C,D/A,D/P,T/T,MoneyGram
Available Specifications:

98(25-50)Metric Ton98(50-100)Metric Ton

Keywords
7646-85-7
Zinc chloride
chloride
Quick Details
ProName: Zinc chloride, 7646-85-7
CasNo: 7646-85-7
Molecular Formula: ZnCl2
Appearance: White powder or white pellet
Application: 1.battery electrolyte 2.organic synth...
DeliveryTime: according to request
PackAge: 25kg/bag or as your request
Port: Shanghai,Qingdao,Hangzhou,Tianjing,Dal...
ProductionCapacity: 100 Metric Ton/Day
Purity: 99.0% Min
Storage: room stock
Transportation: by air , by sea
LimitNum: 25 Metric Ton
Superiority
Zinc chloride, 7646-85-7
Product Description
Product name: Zinc Chloride
Properties: White powder or white pellet
Molecular Weight: 136.29
CAS No.: 7646-85-7
HS code: 2827399000
Percent: ≥98%
GB1625-79 %(m/m)
Item

Criteria

BatteryGrade

First Grade

Second Grade

Content(Calculate in ZnCl2)% ≥

98.0

98.0

96.0

Chloride oxidation(Calculate in ZnO)%

1.8~2.2

2.0

2.2
Sulfate(SO4)≤

0.01

0.01

0.0.05

Barium(Ba)% ≤

0.1

0.1

0.2

Ferrum (Fe)% ≤

0.0005

0.001

0.002

Plumbum(Pb)% ≤

0.0005

0.001

0.002

Insolubles(Hcl) % ≤

0.01

0.01

0.01

Zinc plate cauterization experiment
Qualified

Qualified

Qualified
HG2323-2004 %(m/m)
Item

Criteria

I

II

III

Top Grade
First Grade
First Grade
Qualified Grade

Zinc chloride(ZnCl2) %≥

96.0

95.0

95.0

93.0

40.0

Muriatic acid insoluble substance%≤

0.01

0.02

0.05

Basic salt(calculate in ZnO)%≤

2.0

2.0

0.85

Sulfate(calculate in SO4)%t≤

0.01

0.01

0.05

0.004

Ferrum(Fe) %≤

0.0005

0.001

0.003

0.0002

Plumbum (Pb) %≤

0.0005

0.001

0.0002

Alkali and alkaline-earth metal %≤

1.0

1.5

0.5

Corrosion test on the zinc plate

Pass

Pass

PH

3-4
Uses:
1.battery electrolyte
2.organic synthesis industry, dehydrating agent, condensing agent
3.cation exchange resin catalyst
4.production of polypropylene solvent West
5.mordant dyeing industry, mercerizing agent and sizing agent
6.the production of reactive dyes and cationic dyes
Storage:
Should be stored in ventilated, dry coffers, to avoid the open storage. Containers must be sealed to prevent moisture. Not with the consumption of goods and feed during storage or shipment. Transportation should be covered to prevent rain and sun. When handling gently, to prevent the packaging rupture.
Packing:
25kg/ 50kg/1000KG P.P.vacuum bag , 50kg pasteborad bucker/galvanises drum from inside ect.
Your reliable chem partner from China!
Details
Zinc chloride, 7646-85-7